Long Pose Drawing and Painting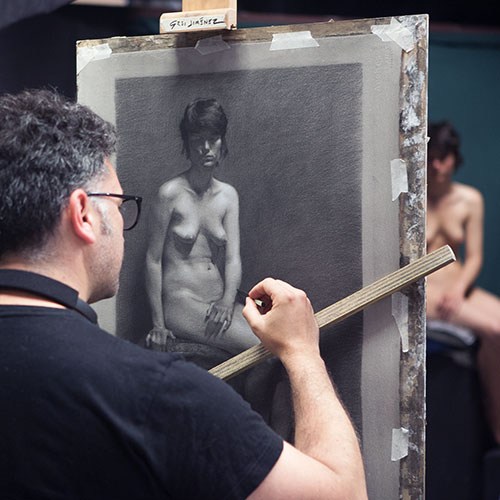 Weekend course
Drawing the human figure is an essential part of the Barcelona Academy of Art curriculum. Students spend half their day observing and studying the human figure, using the Sight-Size method. Working with charcoals of varying thickness allows the student to study a wide range of different types of mass media to create a naturalistic representation of the figure.
The Long Pose exercise allows the student to observe the model accurately in order to analyse and deeply understand their figure. This exercise also allows the student to acquire the necessary knowledge to know how to choose the most important features when drawing poses of shorter duration.
The Long Pose exercise lasts for 3 hours, in which the same model is used for 2, 3 or 5 consecutive weeks. The model is always in the same position, and the student always works from the same easel throughout the exercise and until the end of the designated period.
Timetable: Saturdays from 10:30am to 1:30pm
| | | | |
| --- | --- | --- | --- |
| Prices | 3 MONTHS | 6 MONTHS | 9 MONTHS |
| | 399 € | 798 € | 1,000 € |
Instructors
Members
Lorem Ipsn gravida nibh vel velit auctor aliquet. Aenean sollicitudin, lorem quis bibendum auci elit consequat ipsutis sem nibh id elit. Duis sed odio sit amet nibh vulputate cursus a sit amet mauris. Morbi accumsan ipsum velit. Nam nec tellus a odio tincidunt auctor a ornare odio. Sed non mauris vitae erat consequat auctor eu in elit.
Total number of students in course: