Portrait Drawing and Painting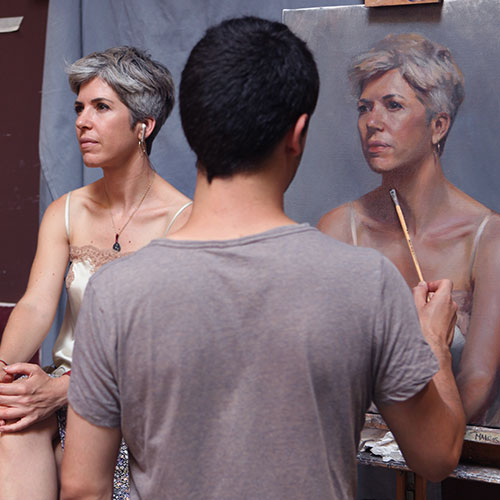 With help from the teachers, a student beginning portrait drawing pays attention to the lighting, presentation and gesture of the model in order to achieve a convincing, representative portrait. Students will undertake several preparatory studies to develop their ideas before embarking upon more personal projects.
Types of portrait exercises in drawing and painting:
Portrait Drawing & Painting
This class allows the student to closely study the model to understand their anatomy in order to obtain a more realistic representation of their features. With the help of the teachers, the student also works on lighting, presentation, and gesture.
In this class the student will be allowed to represent the model via both drawing and painting. It is recommended to start by drawing with charcoal, and progressively pass to paint, first in grisaille (shades of gray), and then to different palettes of colors.
Portrait Sketching
In the portrait sketching course, the foundations will be laid to develop an efficient, fast working process based on the anatomy, structure, and effects of chiaroscuro and volume that light creates in the human head and face. For this, dry techniques will be used, following a series of logical steps that allow us to produce fresh, expressive, and realistic results.
In order to be able to access the Painting programme, it is essential that the student has passed all the exercises corresponding to the Drawing part.
Timetable:
Portrait Drawing & Painting: Monday & Tuesday from 6pm to 8:30pm
Portrait Drawing & Painting Sketch: Thursday from 6pm to 8pm

| | | | |
| --- | --- | --- | --- |
| Prices | 3 MONTHS | 6 MONTHS | 9 MONTHS |
| Portrait Drawing & Painting (1 day) | 305 € | 610 € | 900 € |
| Portrait Sketch (1 day) | 192 € | 384 € | 570 € |
Consult the BAA Sales, Cancellations and Refunds Policy
Instructors
Sorry, no posts matched your criteria.
Members
Lorem Ipsn gravida nibh vel velit auctor aliquet. Aenean sollicitudin, lorem quis bibendum auci elit consequat ipsutis sem nibh id elit. Duis sed odio sit amet nibh vulputate cursus a sit amet mauris. Morbi accumsan ipsum velit. Nam nec tellus a odio tincidunt auctor a ornare odio. Sed non mauris vitae erat consequat auctor eu in elit.
Total number of students in course: