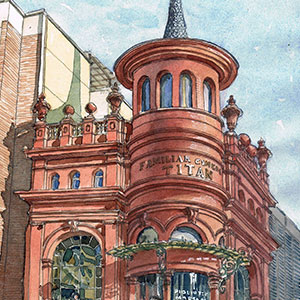 Easter course
A sketch is a quick drawing that portrays an image or idea, and that sometimes is only comprehensible to the artist. The sketching technique must be applied according to the main lines of a drawing, therefore for a trained eye, the execution must be done in a short time.
In this course, students will work on urban illustration, learning to focus their attention on what is interesting, be it a building, urban landscape, a group of people or a specific detail, and then express it on paper. They will combine drawing with typography (text), and add basic touches of colour with watercolour. They will also be able to experiment with different graphic representation techniques to see what results are obtained, and how they can reinforce the results of their work, taking advantage of the potential of each (dry, wet and mixed techniques).
One of the possibilities offered by the surroundings is to use it as if it were a live model, since with a notebook in hand, one can instantly grasp what to retain.
Methodology
Each day, notebook in hand, the students will take a different route through the city to make the most of each session. This will begin at the meeting point, where students will receive their first instructions from the teacher for approximately 15/20 minutes. Then they will begin to perform the proposed exercises and will see how, by experimenting and taking risks, their sketches will improve as the workshop progresses.
Dates: March 29th to April 2nd 2021
Timetable: 9:30am to 3pm
Language: Spanish & English
Instructors
Sorry, no posts matched your criteria.
Members
Lorem Ipsn gravida nibh vel velit auctor aliquet. Aenean sollicitudin, lorem quis bibendum auci elit consequat ipsutis sem nibh id elit. Duis sed odio sit amet nibh vulputate cursus a sit amet mauris. Morbi accumsan ipsum velit. Nam nec tellus a odio tincidunt auctor a ornare odio. Sed non mauris vitae erat consequat auctor eu in elit.
Total number of students in course: