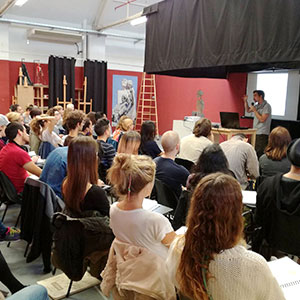 Figurative art implies that the artist knows and dominates the representation of the shapes and characteristics of the human body to perfection. For this, excellent knowledge of the human anatomy is essential to explore the surface of the body and to identify and recognise bone structure, as well as the muscular and carnal morphology of the figure for the perfect conceptual understanding.
Aims
To understand the skeletal and muscular structure of the human body: parts, connections and structure.
To identify the morphology of muscular masses
To understand the shape of the human body in a conceptual way.
Course material
Artistic Anatomy, by P.M.L.P. Richer and R. Beverly Hale is recognised as the best anatomy book since the Renaissance. The original 1889 edition was used by Renoir, Braque, Degas or Bazille. The English edition, first published 35 years ago, brings the great 19th century master of artistic anatomy, Dr. Paul Richer, together with the most renowned 20th century master of anatomy and drawing of the human figure, Robert Beverly Hale, who translated and edited the book for the modern reader.
Artistic Anatomy with Christian Bull
Introduction
Anatomy Lectures
Cheat Sheet Series
Instructors
Members
Lorem Ipsn gravida nibh vel velit auctor aliquet. Aenean sollicitudin, lorem quis bibendum auci elit consequat ipsutis sem nibh id elit. Duis sed odio sit amet nibh vulputate cursus a sit amet mauris. Morbi accumsan ipsum velit. Nam nec tellus a odio tincidunt auctor a ornare odio. Sed non mauris vitae erat consequat auctor eu in elit.
Total number of students in course: