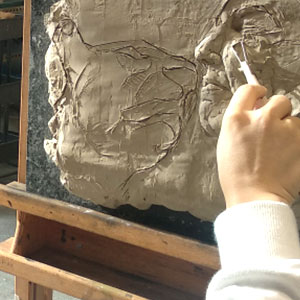 Bas-relief
Bas-relief is a sculptural technique to capture imagery, which involves outlining the edges of the design while lowering the background. A three-dimensional effect is created by using figures that protrude slightly from the background.
It's a fundamental technique to improve drawing and sculpting abilities because it employs both throughout the creation process.
Garments
Fabric and clothing are very common features of figurative sculpture. The objective of this course is to learn how to represent the behaviour of fabric in a figurative context. Through carrying out various exercises, students will learn the basic principles of the behaviour of fabric in order to develop the ability to faithfully reproduce it.
Hands and feet
In this course, the study of hands and feet is also explored, discovering the importance of bone and muscle structure, as well as basic proportions.
The main objective of these exercises is for the student to learn to simplify more complex forms of the human body via a flatter medium. In addition, they will also work with the composition of the medium, a crucial element to be able to make cavities in it.
It includes an explanation of simple frames and how to use specific tools at each step of the sculpting process.
Instructors
Members
Lorem Ipsn gravida nibh vel velit auctor aliquet. Aenean sollicitudin, lorem quis bibendum auci elit consequat ipsutis sem nibh id elit. Duis sed odio sit amet nibh vulputate cursus a sit amet mauris. Morbi accumsan ipsum velit. Nam nec tellus a odio tincidunt auctor a ornare odio. Sed non mauris vitae erat consequat auctor eu in elit.
Total number of students in course: