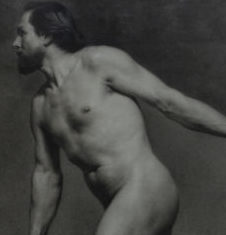 The Modelling and Form course is the continuation of the Constructive Drawing seminar. In this class, we will work on the general structure of the human body, and later we will focus on each part, analyzing the turn of the form with halftones while maintaining its structure.
The course will be divided into 2 parts:
-Copy of an academic drawing from the 19th century during 5 sessions.
-Human figure drawing with a live model focusing on a specific part.
(For all those students who have not completed the sphere exercise, we will send a video and some instructions so they can work on it at home during the first week)
In each of the exercises, we will start by making the general structure. Once we have finished the structure, we will begin to better define the drawing in the focal part (torso and portrait), raising the value of the shadow to have our range of darks established. We will finish modeling the figure focusing on a specific area with the technique called "window shading".
The main objective of this course is to improve on the basic aspects of drawing (abstract and constructive vision) and later improve the modeling technique.
Profesores