Artistic Residency Programme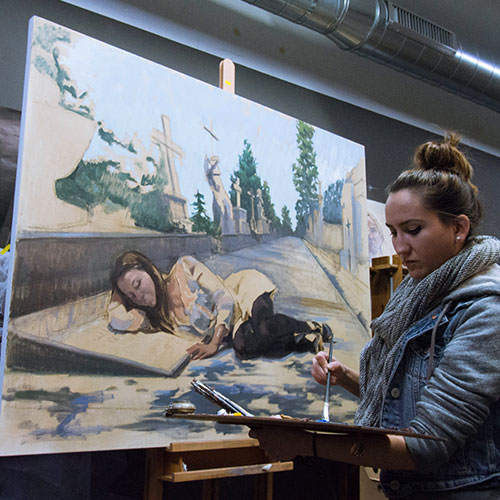 The Barcelona Academy of Art offers its own students, as well as external ones, the possibility of starting their professional development process in a studio/workshop where they will receive the necessary knowledge to guarantee their entry into the artistic/cultural world.
The studios where the artists work are located in the BAA Sarrià and the students will have unlimited access within a broad established timetable. In these studios, artists work on personal projects while receiving advice from their tutors and other external professionals related to the artistic/cultural sector: artists, curators, critics and art & culture theorists, etc.
The student/artist will become part of a community of figurative artists, which will reinforce the current trend around the parameters of contemporary realism, a movement promoted and supported by the European Museum of Modern Art [MEAM] in Barcelona.
Who's it for?
The Artistic Residency programme is a highly specialised offering in the field of Fine Art. It is aimed at those who are interested in becoming a professional artist, within the parameters of traditional learning, with a solid base that will encourage them to investigate and find their own artistic voice. Students graduating from the BAA and other schools with an ARC-recognised curriculum are the potential candidates. At the same time, the programme is open to artists who wish to apply for a place without having graduated from a school with an academic programme and whose portfolio is of exceptional quality.
The main objective of this final stage of learning is for the student/artist to find their own artistic voice and earn a living as a professional painter, sculptor or digital artist. This is about encouraging the development and pursuit of their own artistic identity while working to consolidate their profession. We look to support artists when faced with the instability of the art market and the difficulties of finding a suitable workspace for their needs. The intention is to support and enhance their creativity by providing them with the facilities they need as they begin to develop their career as professional artists.
The aims of the programme can be summarised as follows:
To display and exhibit the artists' personal work.
To help students find a professional avenue.
To introduce students to the contemporary art world.
To provide advice from teachers and other specialists to ensure optimal quality in professional performance.
To reinforce legal concepts and communication trends in the artistic/cultural world to facilitate knowledge of the sector.
To encourage teamwork to strengthen the contemporary trend of figurative art.
The Artistic Residency programme aims to help artists focus and develop their work through the guidance and insight of our team of academics and other specialists. The student's own initiative will be a priority in the development of their projects, and any doubts in the development and execution phase can be advised upon by the aforementioned professionals. Students will also receive parallel training through masterclasses, talks, demonstrations and personal consultation of their questions. With the Artist Marketing course, students will gain in-depth knowledge of the legal processes involved in the artistic/cultural sector. We will help artists to discover or strengthen their own language and identity and we will introduce them to the tools and strategies for the communication and promotion of their work.
This contact with artistic/cultural figures, promoted by the school, will favour relations in the future for the art student to immerse themselves in the cultural sector, as well as the national and international art market.
The student/artist will have free access to all natural modelling sessions, which will take place every day on the premises.
Students of the Barcelona Academy of Art who have completed their programme of studies and wish to access the Artistic Residency programme may apply for a scholarship by requesting the form at the end of their study period [Special promotion for students of the Barcelona Academy of Art].
The student will have access to the studio from Monday to Saturday from 9am to 9pm. Access to directed, instructed classes lasts for 9 months (for the academic period: from October to June).
AUTUMN TERM: October - December
WINTER TERM: January - March
SPRING TERM: April - June
SUMMER TERM: July - September
Directed, instructed classes last for 9 months (for the academic period: from October to June). However, artists may extend this period for an additional 2 months in summer (July and September).
| | | | |
| --- | --- | --- | --- |
| Prices | 3 MONTHS | 6 MONTHS | 9 MONTHS |
| Study + Tutorship + Marketing | 2,260 € | 4,526 € | 6,000 € |
| Study + Tutorship | 1,885 € | 3,770 € | 5,000 € |
| Study + Marketing | 1,885 € | 3,770 € | 5,000 € |
| Studies | 1,395 € | 2,790 € | 3,700 € |
BAA Sarrià
Carrer de Maria Auxiliadora, 9
08017 Barcelona
Instructors
Sorry, no posts matched your criteria.
Members
Lorem Ipsn gravida nibh vel velit auctor aliquet. Aenean sollicitudin, lorem quis bibendum auci elit consequat ipsutis sem nibh id elit. Duis sed odio sit amet nibh vulputate cursus a sit amet mauris. Morbi accumsan ipsum velit. Nam nec tellus a odio tincidunt auctor a ornare odio. Sed non mauris vitae erat consequat auctor eu in elit.
Total number of students in course: