Expressive and Experimental Drawing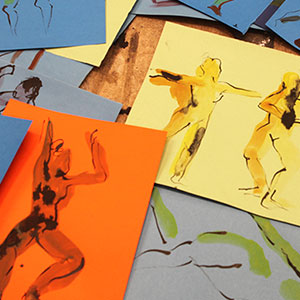 The exercises of the expressive drawing section will consist of drawing short poses of a natural model. The student will experience drawing in a less analytical way and in a more sensorial and expressive way, having the opportunity to experiment and learn to combine different techniques and graphic colours.
Aims
To extend the elements related to drawing the human figure beyond the fixed reference points by developing expressive possibilities.
To teach observation, visual analysis and the capacity for synthesis in capturing the reference points of nature, with the aim of achieving a more expressive representation.
To apply knowledge of anatomical morphology in order to better and correctly understand the representation of the human body.
To know how to estimate, due to expressive suitability and perceptive aspects, the result of the graphic and technical forms used in each case.
To exercise theoretical ability in reflection, analysis and research, in order to know how to apply it to learning and personal work.
To acquire a high degree of creative expression in the representation of the human figure.
To apply the techniques and artistic processes chosen for each project so that it can develop in a creative, personalised way.
To deepen the student's intuitive and expressive abilities and display them in the drawing of the human figure.
To forget the rigidity, analytical calculation and control exercised by academic learning to give way to creativity coming from the right hemisphere of the brain.
Dates: Autumn, Winter and Spring periods
Timetables: Friday from 2pm to 5pm
Location: BAA Poblenou
Language: English/Spanish
| | | | |
| --- | --- | --- | --- |
| Prices | 3 MONTHS | 6 MONTHS | 9 MONTHS |
| | 370 € | 740 € | 1,100 € |
Instructors
Members
Lorem Ipsn gravida nibh vel velit auctor aliquet. Aenean sollicitudin, lorem quis bibendum auci elit consequat ipsutis sem nibh id elit. Duis sed odio sit amet nibh vulputate cursus a sit amet mauris. Morbi accumsan ipsum velit. Nam nec tellus a odio tincidunt auctor a ornare odio. Sed non mauris vitae erat consequat auctor eu in elit.
Total number of students in course: