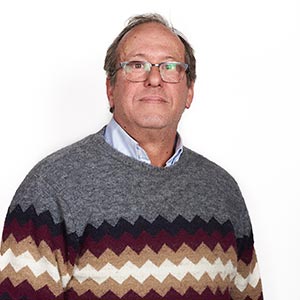 Jordi Gonzàlez
History of Art
History of Art
---
About Jordi.
Jordi González Llàcer belongs to a family of artists. Teresa Llàcer, his mother, is a painter, as are his sister Elena and brother Ángel. His other sister, Maite González Llàcer, is an engraver. In 1975, he obtained a Certificate of Proficiency in English from the Institute of North American Studies in Barcelona and in 1983 he graduated in Art with a specialisation in Art History from the Universitat Autònoma de Barcelona (UAB). In 1996 he completed his doctoral thesis, earning his doctorate cum laude.
Between 1981 and 1992 he worked for publishers, specialising in art books such as Diccionari Ràfols, Àmbit and Electa España. During the years 1989-1990 he taught Art History at the Faculty of Fine Art at the University of Barcelona (UB) and between 1993 and 2001 at the Faculty of Humanities of Pompeu Fabra University – Barcelona.
He has published several books on modernism and Catalan art of the 19th and 20th centuries, as well as numerous articles as the Barcelona correspondent for the Madrid-based art magazine Antiquaria.
Between 1996 and 2008, he organised several exhibitions and published monographic essays on the painters Josep Amat (Librería Blanquerna, Madrid 1996; Museo de Arte de Girona, 1998); Joan Serra (Ausa, Sabadell 2003); Jordi Freixas Cortés (Cajamadrid, Barcelona 2004); Ramon Sanvisens (Ayuntamiento de Sitges, 2007); and Josep Cusachs (Artistes Catalans, Nova Catalunya 2008); as well as on drawings by Nonell, Xavier Gosé, Opisso, Manolo Hugué, Picasso, Ramon Casas, etc., for the Fundación Francisco Gòdia (Del modernisme a les avantguardes, La Caixa Foundation, Barcelona 2003).
He has given lectures on Art History for the Fundación Gòdia, the Cercle Artístic de Sant Lluc in Barcelona, the Catalan network of external studies and other institutions of cultural diffusion.
He is also a poet, singer and composer with two released albums: Mamugrafia (La Banda del Mamu, 2010) and Bilingüe (La Banda del Mamu, 2017).