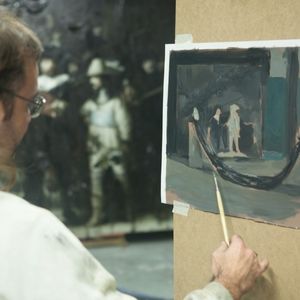 Course for advanced students who have completed the Drawing Program. In the Composition course, the pictorial technique takes on a less important role to give way to the essence of design. Once the technique is out of the equation, the compositional structural elements that express the visual appeal of the image can be discovered. This course encourages the student to find different possible solutions to these compositional challenges through individual and group exercises, where the group share their views on the results achieved.
Methodology
The sessions consist of a series of very dynamic exercises, occasionally against the clock, based on challenges that seek to break with the student's comfort zone.
Composition: From different studies of classical and contemporary works, the elements that define their visual appearance will be investigated, putting aside any technical and formal analysis of the pieces. In this way one can understand that any element in the image, however secondary it may seem, has a fundamental role in its structure.
Perception: Through practice, the aim is to develop the student's perception and viewpoints of the subject.
Abstraction: Through exercises of pure abstraction, which seek to break with the possible strictness and absolute control acquired during the academic program, a student will discover more intuitive aspects of themself, where mistakes present new artistic resources and open new ways to approach their painting.
Aims
To discover new ways to visually analyse/look at the scene.
To break with strictness of technique.
To be able to find compositional solutions to complete the structure of the image.
To apply new artistic resources to painting.
To leave the comfort zone.
To generate discussion and allow the student to find new degrees of awareness in their painting.
Instructors
Sorry, no posts matched your criteria.
Members
Lorem Ipsn gravida nibh vel velit auctor aliquet. Aenean sollicitudin, lorem quis bibendum auci elit consequat ipsutis sem nibh id elit. Duis sed odio sit amet nibh vulputate cursus a sit amet mauris. Morbi accumsan ipsum velit. Nam nec tellus a odio tincidunt auctor a ornare odio. Sed non mauris vitae erat consequat auctor eu in elit.
Total number of students in course: