This Website uses cookies to provide you with a better experience and service.
What are cookies?
Cookies are files that are downloaded to the user's device (computer/smartphone/tablet) when accessing certain web pages and are stored in the user's memory. Cookies make it possible, among other things, to store and retrieve information about the browsing habits of a user or their computer, to see which pages are visited, the connection time, to analyse the functioning of a page, or whether there are technical problems, etc. Depending on the information they contain and the way the device is used, they can be used to recognise the user.
What types of cookies are there?
Depending on the entity that manages the cookies, these may be:
Own cookies. They are owned and managed by us.
Third-party cookies. They are owned by a third party who manages the information obtained by the cookie.
Depending on how long they remain activated, they can be:
Session cookies. Designed to collect and store data while the user is accessing a web page.
Permanent cookies. The data is stored in the device and can be accessed and processed during a period defined by the party responsible for the cookie, which can range from minutes to years.
According to their purpose they can be:
Technical or Process Cookies. These are used to allow the user to navigate through the website or application and are necessary to properly provide a service requested by the user. Without these cookies, the website cannot function properly. These cookies save the necessary information during the session and any related changes, and also determine whether or not you are registered on the site.

Personalisation or preference cookies. They are used to store settings and preferences so that you don't have to reconfigure every time you visit the website. These cookies let us know if you have previously visited our site or, for example, what your default language is.

Analytical cookies. They are used to monitor and analyse user behaviour; this is to measure web activity, draw up browsing profiles, etc. They are used to anonymously collect information and report website trends without identifying individual users.

Advertising cookies. They allow the management of advertising spaces and adapt the content of advertising to make it relevant to the user and to avoid showing ads that the user has already seen.

Social cookies. They are used to enable users to interact with the content of different social platforms, and are used by these platforms for behavioural advertising, analysis, monitoring and market research.
Which cookies do we use on our website?
The cookies used on our website are the following: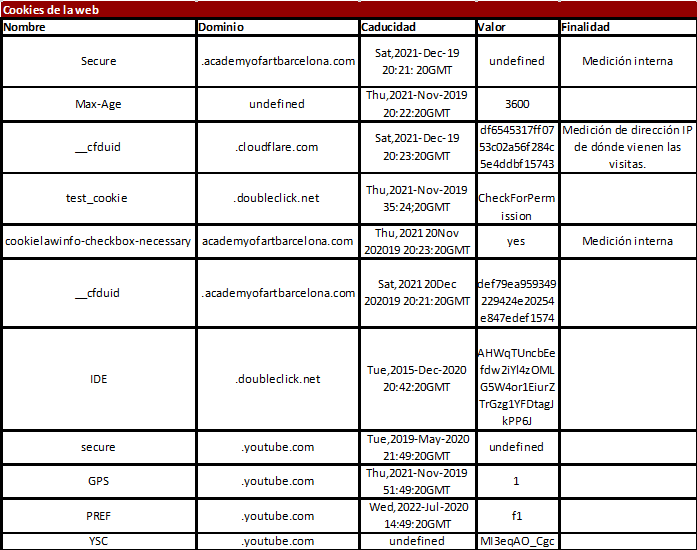 Configuring and deactivating the use of cookies in your browser
Most browsers tell you how to set your browser to not accept cookies, to notify you when you receive a new cookie, and to disable cookies completely. To control for which purposes you would like your information to be used, you can configure the browser of your device in the way you find most convenient to you.
In any case, we would like to point out that if technical and/or operational cookies are deactivated, the quality of the website may decrease or it may be more difficult to identify you.
The following links provide more information for different browsers:
Chrome https://support.google.com/chrome/answer/95647?hl=es

Explorer http://windows.microsoft.com/es-xl/internet-explorer/delete-manage-cookies#ie=ie-10

Firefox http://support.mozilla.org/es/kb/habilitar-y-deshabilitar-cookies-que-los-sitios-we

Safari http://support.apple.com/kb/ph5042