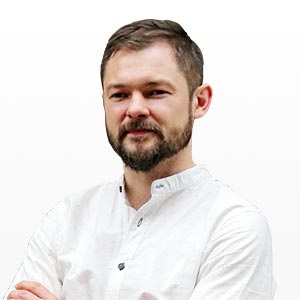 Grzegorz Gwiazda
Sculpture
---
About Grzegorz.
Grzegorz Gwiazda was born in 1984 in Lidzbark Warmiński (Poland). He studied at the Fine Art schools of Poznań and Warsaw, and later at the Accademia di Belle Arte di Brera in Milan, Italy, thanks to a scholarship. In 2009, he graduated with honours from the Warsaw Academy of Art (ASP), where he studied sculpture with Professor Adam Myjak. In January 2014 he was awarded his doctorate. Since 2009, he has worked as an assistant to Professor Maciej Zychowicz in the Department of Graphics and Sculpture at the Institute of Artistic Education at the Special Education School (IEA ASP) in Warsaw.
In the 2008-9 academic year he was awarded a scholarship by the Ministry of Culture and National Heritage, and in 2010 he received a scholarship from Inicjatywa Entra (Entry Initiative). In 2010, his work: Behold the man (Oto Człowiek) was awarded an honourable mention in the international figurative art competition organised by the Foundation of Arts and Artists (Barcelona, Spain).
His works have been displayed in individual exhibitions in several Polish cities and towns: Lidzbark Warmiński (Warmia Episcopal Castle, 2008), Warsaw (Promocyjna Art Gallery, 2011; Fibak Art Gallery, 2013; 101 projekt Art Gallery, 2014) Poznań and Mosina (2013), Bydgoszcz (Wspólna Art Gallery, 2013). His sculptures have also been displayed in group exhibitions both in Poland and abroad: Coming Out: the best ASP graduates (Warsaw, 2009), Exhibition of Professors and graduates of the Sculpture Department in ASP (Warsaw, 2012), in Madrid (2010, 2011) and Barcelona (2011). In 2017, the European Museum of Modern Art in Barcelona organised its first retrospective exhibition entitled "The Rodin of the 21st century".