Sculpture Portrait / Self Portrait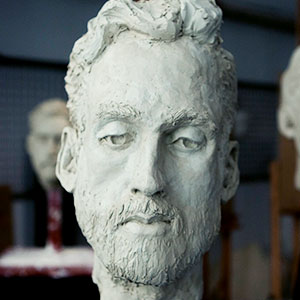 Sculpture portrait
The sculpture portrait exercise focuses on the process of constructing a three-dimensional portrait with clay. This process, combined with various methods of observation, makes us take care with proportion, gesture and internal structure, and thus get as close as possible to the resemblance and expression of the model to capture the essence of the person being portrayed.
The seminar will be reinforced with classes in natural portrait drawing, since drawing is understood as a fundamental pillar of figurative sculpture.
Self portrait
Self-portraits are works of special interest because they reveal an intention: the image that the artist wants to show us of himself.
The students, using mirrors, will work on this exercise, which will also relate the concepts explained at the beginning of the term on composition.
Instructors
Members
Lorem Ipsn gravida nibh vel velit auctor aliquet. Aenean sollicitudin, lorem quis bibendum auci elit consequat ipsutis sem nibh id elit. Duis sed odio sit amet nibh vulputate cursus a sit amet mauris. Morbi accumsan ipsum velit. Nam nec tellus a odio tincidunt auctor a ornare odio. Sed non mauris vitae erat consequat auctor eu in elit.
Total number of students in course: