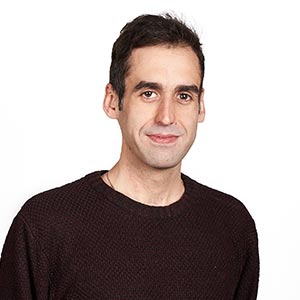 Christian Durán
Dibujo | Pintura
Dibujo y Pintura de retrato | Dibujo y Pintura de Apuntes | Dibujo y Pintura de Pose Fija | Dibujo de láminas y de yesos | Pintura de yesos y bodegones
---
Sobre Christian.
Christian Duran nació en 1987 en Barberá del Vallés, Barcelona. En 2009 decide estudiar Bellas Artes en la Universidad de Barcelona para desarrollar y consolidar sus estudios artísticos compaginándolos con proyectos freelance como ilustrador y diseñador gráfico para clientes y estudios de diseño como Tabula Rasa Studio o Outro Studio.
Posteriormente, en 2014 decide ingresar en la Barcelona Academy of Art como parte de la primera promoción de estudiantes participando en diversas exposiciones colectivas en galerías y museos como el MEAM, La Destil·leria o La Plataforma. Finaliza sus estudios en 2016 pasando a formar parte del profesorado.
Entre 2017 y 2018 complementa su trabajo en la Barcelona Academy of Art colaborando en el proyecto "Flakturm" para el artista Nick Devereux en su estudio de París. Esta etapa le introdujo en el complejo panorama artístico contemporáneo de París.
Actualmente vive y trabaja en Barcelona. Es el Director del programa de Dibujo de la Barcelona Academy of Art.