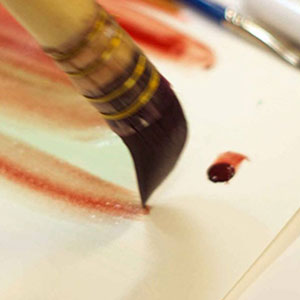 The exercises of the Dynamic Drawing section will consist of capturing short poses and rhythmic sequences from a natural model. The student will experience and learn retentive concepts along with the most impulsive and graphic representation for the portrayal and description of continuous motion. The concepts of gesture, graphical design and spontaneous expression of what one feels and always interprets from natural observation will be worked on.
Aims
To increase knowledge related to drawing the human figure beyond the fixed reference points, by developing its dynamic possibilities.
To teach observation, visual analysis and the capacity for synthesis by capturing the motion of a natural model, with the aim of achieving its optimised representation.
To master visual retention, in order to be able to draw the poses and feelings of the model from memory, with fast motion and very short observation times.
To apply knowledge of anatomical morphology in order to better and correctly understand the representation of motion.
To learn how to assess, through its expressive adequacy and perceptive aspects, the result of the graphic and technical forms adopted in each case.
To exercise one's theoretical capacity in reflection, analysis and investigation, with the aim of knowing how to apply it to learning and personal work.
To acquire a high degree of creative expression in the representation of motion.
To apply the techniques and artistic procedures chosen for each project to develop them in a creative, personalised way.
To deepen the intuitive and expressive capacities of the student and their reflection in the drawing of motion.
To develop creative spirit through personal initiative, with the aim of acquiring a personal style to represent motion.
Dates: Autumn period
Timetable : Friday, from 2pm to 5pm
Location: BAA Poblenou
Language: English/Spanish
| | | | |
| --- | --- | --- | --- |
| Prices | 3 MONTHS | 6 MONTHS | 9 MONTHS |
| | 370 € | - | - |
Instructors
Members
Lorem Ipsn gravida nibh vel velit auctor aliquet. Aenean sollicitudin, lorem quis bibendum auci elit consequat ipsutis sem nibh id elit. Duis sed odio sit amet nibh vulputate cursus a sit amet mauris. Morbi accumsan ipsum velit. Nam nec tellus a odio tincidunt auctor a ornare odio. Sed non mauris vitae erat consequat auctor eu in elit.
Total number of students in course: