Human Figure Drawing and Painting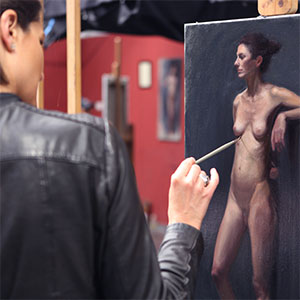 Summer course
Human Figure Drawing and Painting course, based on the figurative tradition of the Great Masters.
At the Barcelona Academy of Art, we consider drawing the most important element and starting point for any artistic development. In this course, students initially focus on developing a sketch, practicing, and applying the knowledge of pose, gesture, proportion, and precision. First using charcoal and later moving on to oil painting, the students will work from a life model, alternating long poses and short poses with a theoretical basis
Dates
:
July 2022
: 11 to 15 July: Drawing and 18 to 22 July: Painting.
August 2022
: 1 to 6 August: Drawing and 8 to 12 August: Painting.
Timetable
:
9:30-15:00h, from Monday to Friday
Language:
Spanish & English
Price: 400€ (Drawing) | 600€ (Drawing + Painting)
NOTE: New students will not be able to enroll only in the Painting course without having previously taken the Drawing course. Only those students who already know the method will be able to enroll in the painting course independently.
Consult the BAA Sales, Cancellations and Refunds Policy
Instructors
Sorry, no posts matched your criteria.
Members
Lorem Ipsn gravida nibh vel velit auctor aliquet. Aenean sollicitudin, lorem quis bibendum auci elit consequat ipsutis sem nibh id elit. Duis sed odio sit amet nibh vulputate cursus a sit amet mauris. Morbi accumsan ipsum velit. Nam nec tellus a odio tincidunt auctor a ornare odio. Sed non mauris vitae erat consequat auctor eu in elit.
Total number of students in course: