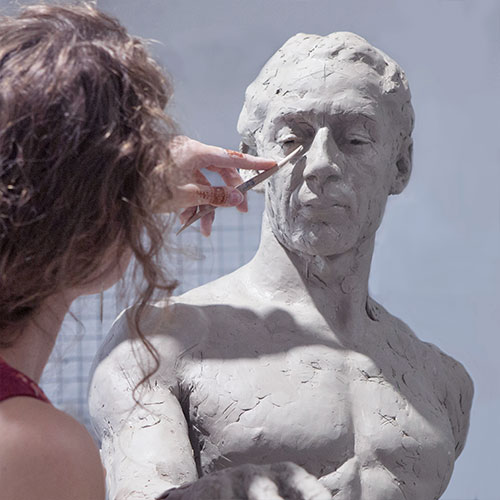 The Full-Time Drawing | Sculpture programme includes an extensive study plan that incorporates all the mechanisms of traditional academics related to drawing and sculpture in order to provide the student with all the aesthetic and expressive resources of a professional artist. Students have 6 to 8 hours of supervised study from Monday to Friday. The students of this course work with all the subjects of the programme, which consists of the subjects of the 19th century Traditional Programme as well as the Seminars of the Drawing | Sculpture curriculum.
Aims
To train the eye to be thorough.
To learn the technique of spatial drawing.
To learn the process of constructing a portrait.
To learn the process of constructing the complete human figure.
Methodology
In accordance with the 19th century methodologies with which the school works, the regular sculpture programme begins with an important focus on drawing.
We believe that drawing is a fundamental tool for learning sculpture. Learning to observe and relate information in 2D will facilitate the interpretation and the multiple points of view of a 3D sculpture.
The regular Drawing | Sculpture course consists of a series of assignments that the student must complete at their own pace. Each day a different teacher will come to each student's workspace and offer a critique of their work, indicating all the aspects to be improved in their work. Only when performance is satisfactory according to each level's objectives can the student begin the next assignment, which will be at a level immediately above the previous one. This way, the student will advance until all the exercises of the course are completed.
At the end of each term, the students receive an individual, personalised final critique attended by all their teachers. Five general areas are evaluated: attendance, performance, effort, attitude and progress. A final average grade is given based on this.
The time that each student spends on each assignment, and consequently on finishing a course, is totally individual, and may be different from other students. The standard amount of time a full-time student spends completing the Drawing | Sculpture course is three academic years.
The minimum enrolment time for standard courses is always one term [3 months].
Students can join the chosen programme at the beginning of each term and progress on a continuous basis, or they can choose to let some time pass between each enrolment.
Schedule: Monday to Friday from 10am to 1pm and from 2pm to 5pm. Evening sessions: Monday to Thursday from 6pm to 8pm (1 obligatory session).
Academic Terms 2024:
Fall Term [7 October - 21 December, 2024]
Winter Term [8 January - 23 March, 2024]
Spring Term [8 April - 22 June, 2024]
Summer Term [1 July - 14 September, 2024]
Present to a greater or lesser degree in all the courses offered at the institution, drawing is the backbone of the Barcelona Academy of Art's teaching process. Without a solid grounding in drawing, most of the difficulties that arise throughout an artistic career are very difficult to solve. Sculpture is drawing in open space. Beginner students begin with the study of the human figure, then go through modelling and finally work on sculpting the torso and life-size figure. As students move towards more complex projects, teachers will motivate them to try out new techniques and shapes so that they can find their own expressive language. The Drawing | Sculpture course is made up of the subjects of the 19th century Traditional Programme plus the Seminars of this curriculum.
Monday - Thursday
Friday
1st Year
2nd Year
3rd Year
1st Year
2nd Year
3rd Year
Morning 10 - 13h
Human Figure Drawing: Long Pose
Human Figure Drawing: Long Pose
1st term: 3/4 Reclining Figure—2nd term: Torso Portraiture with Cloth—3rd term: Life-Size
11am-1pm Fall and Spring: History of Art —Winter: Light and Form—Summer: Landscape (10am-2pm)
1st term:Human Figure Sculpture — 2nd/3rd term: Man and Woman Torso
1st term: 3/4 Reclining Figure — 2nd term: Torso Portraiture with Cloth—3rd term: Life-Size
Afternoon 14 - 17h
1st term: Cast Sculpture — 2nd/ 3rd term: Human Figure Sculpture
1st term: Human Figure Sculpture — 2nd/ 3rd term: Man and Woman Torso
1st term: Hands/Feet — 2nd term: Sculpture Project: Pillow —3rd term: Self-Portrait/Life-Size
Fall, Winter, and Spring: Morphology
Sculpture Portrait
Sculpture Portrait
Evening 18 - 20h
Pencil Drawing (Monday to Friday) / Sculpture Studies (Tuesdays)
| | | | | |
| --- | --- | --- | --- | --- |
| | 3 MONTHS | 6 MONTHS | 9 MONTHS | 12 MONTHS |
| Intensive programme: Drawing and Sculpture | 3.100 € | 6.200 € | 8.541 € | 10.689 € |
Once the online form has been submitted and the student has been accepted, they will be asked to confirm their place by paying the non-refundable deposit. The non-refundable deposit corresponds to 10% of the total amount of the course enrolled by the student. The rest of the registration fee must be paid by the dates specified via email when confirming the place at the rate of one payment per registered term, and always in advance. If the non-refundable deposit is not paid, the place will remain automatically available for another student.
Students may request refunds (except the non-refundable deposit amount) which will be determined in accordance with the school's internal policy. Any change to be applied after the student's place has been confirmed will require the payment of an administrative fee.
As a general rule, refunds are not permitted other than in cases of extreme seriousness or emergency. In such cases, the student may be required to present the necessary documentation to prove that the circumstances are true. The Management Committee will evaluate each situation and the Administration Department will communicate the final decision to the student. This decision shall be final and not appealable.
Consult the BAA Sales, Cancellations and Refunds Policy
Teachers
Members
Lorem Ipsn gravida nibh vel velit auctor aliquet. Aenean sollicitudin, lorem quis bibendum auci elit consequat ipsutis sem nibh id elit. Duis sed odio sit amet nibh vulputate cursus a sit amet mauris. Morbi accumsan ipsum velit. Nam nec tellus a odio tincidunt auctor a ornare odio. Sed non mauris vitae erat consequat auctor eu in elit.
Total number of students in course: