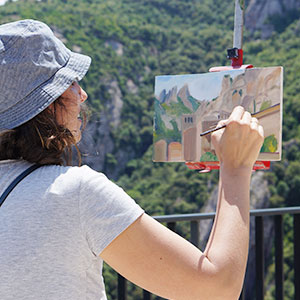 This workshop focuses on the process of constructing a landscape using oil paint. This process, coupled with different methods of observation, allows one to carefully examine the composition, perspective, application of colour, etc. and thus to get as close to nature as possible to capture its essence. This is an excellent seminar for putting different resources into practice in a living environment that requires the student to adapt their knowledge to each scenario.
Aims
To introduce emotion, expressivity and depth into the compositions.
To improve observation techniques and the speed of execution in order to achieve dynamic landscapes.
To master different perspectives in natural and urban settings.
Instructor
Sorry, no posts matched your criteria.
Members
Lorem Ipsn gravida nibh vel velit auctor aliquet. Aenean sollicitudin, lorem quis bibendum auci elit consequat ipsutis sem nibh id elit. Duis sed odio sit amet nibh vulputate cursus a sit amet mauris. Morbi accumsan ipsum velit. Nam nec tellus a odio tincidunt auctor a ornare odio. Sed non mauris vitae erat consequat auctor eu in elit.
Total number of students in course: