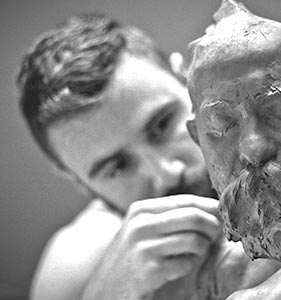 Eudald De Juana
Sculpture
Sculpture
---
About Eudald.
Eudald de Juana Gorriz was born in 1988 to a family of sculptors in a small village near Girona (Spain), where, surrounded by an artistic and natural environment, he learned the craft and developed a large interest in art.
At the age of 19 he formally began studying Fine Art and exploring different artistic disciplines at the University of Barcelona (UB), typically using the human form as a starting point for his ideas, as he considered it to be a great tool for expressing emotions.
After graduating in 2012, Eudald moved to Florence to concentrate on his academic sculpture and drawing education at the Florence Academy of Art. After his studies, he became the main sculpture and drawing instructor at the Florence Academy.
After 3 years of steady teaching, in 2018 he decided to return to Figueres (Spain) to start a new project, with the painter Pau Marinel·lo, called Geode Art Space, a creative place with studios, galleries and workshops for artists, all surrounded by nature.
His works can be found in private collections in countries such as the USA, Canada, the UK, Italy, Spain, Austria, France, Germany, Kuwait and Hong Kong.
His works can also be seen in the permanent collection of the Museu d'Art Modern in Barcelona (MEAM).
Sorry, no posts matched your criteria.