In the spring of 2020, the Barcelona Academy of Art, like many other art schools around the world, had to close its doors to stop the spreading of the Covid-19 epidemic as much as possible, but Art never stops and both students and teachers continued creating works every day.
To support the #stayhome initiative and consolidate the bonds of our artistic community, the BAA decided to organize a contest open to artists from around the world who were in lock-down.
Using any technique at their disposal, the participants had to create a self-portrait and send us an image of the finished work, accompanied by the explanation of their creative process, especially in relation to the quarantine.
With more than 200 participants, the initiative was a success and we are very proud to present in this online exhibition the winning works and the honorable mentions awarded by the BAA jury.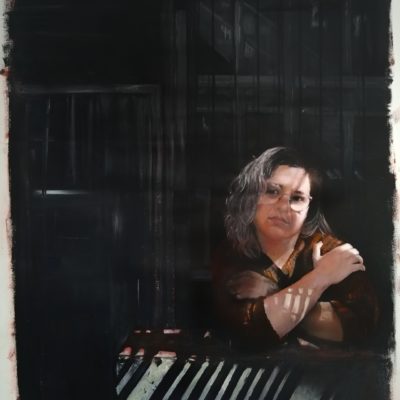 It has been a really difficult period for me, in a really uncomfortable place, without light and alone. Away from my family in Italy and knowing that they were going through many difficulties. I lost friends and family and I couldn't do anything.
In my house, I have a small space at the top of the fire escape. It is surrounded by walls, but between 12pm and 2pm there is a single ray of light. That has been my remedy, my salvation. And I wanted to represent it.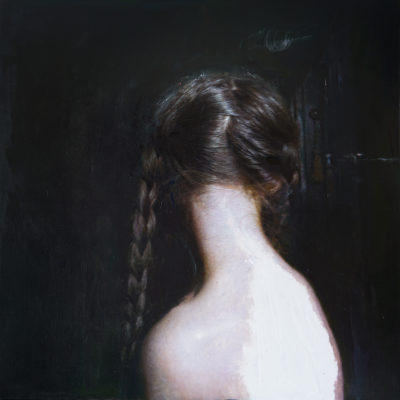 Now I am exploring my inner world and waiting for changes in the world outside. This is self-portrait on the background of expectations of unpredictable world's changes.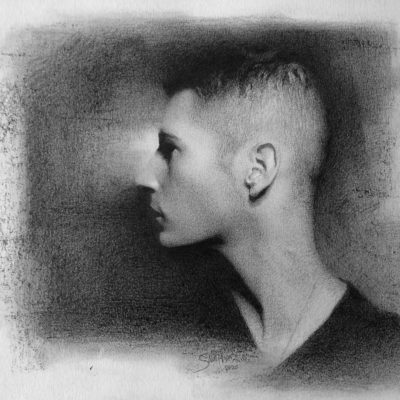 Although these are difficult times for many people, we have to focus on the positives that are happening, as we are refocusing more on the community and we are helping each other. Also, we are showing how creative we can be through social media posts, from funny videos to very witty memes. All the events that are happening have influenced me in the process of making my self-portrait […]
When I started the composition I realized that the front view did not express my thinking, so I hung two perpendicular mirrors to be able to see myself in profile . This composition reflects what I feel: we have to look forward and overcome the difficulties we experience. This situation made me think about how surprising and unexpected life can be and we must enjoy and accept every moment that comes our way.
[…] Every stroke I made on paper reflects all these feelings and thought processes, from my brain and heart to my hand, and from pencil to paper. I have used graphite because it is a medium with which I feel quite comfortable, and I did not want to worry about the materials, but what I wanted to express and everything that was going through my head. Finally, I would like to send my full support to families facing difficulties. Also, I want to applaud each person who is helping in this situation, from medical staff to people who provide support through social media and staying safe at home.