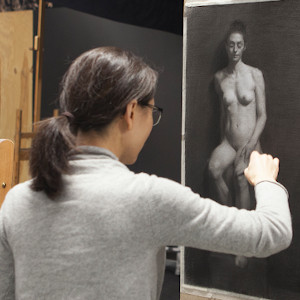 Easter course
Human figure drawing course, based on the figurative tradition of the great masters.
At the Barcelona Academy of Art we consider drawing to be the most important element and starting point of any artistic development. By drawing the human figure in pencil, students initially focus on developing a short sketch, practicing and applying their knowledge of fit, gesture, proportion, and precision. Using charcoal for long pose exercises or exercises of long duration, the student is introduced to working with different mediums, drawing with dots and a wide range of chiaroscuro tones, in an analytical and well-studied way.
Dates: to be confirmed
Timetable: 9:30am to 3pm
Language: Spanish & English
Instructors
Sorry, no posts matched your criteria.
Members
Lorem Ipsn gravida nibh vel velit auctor aliquet. Aenean sollicitudin, lorem quis bibendum auci elit consequat ipsutis sem nibh id elit. Duis sed odio sit amet nibh vulputate cursus a sit amet mauris. Morbi accumsan ipsum velit. Nam nec tellus a odio tincidunt auctor a ornare odio. Sed non mauris vitae erat consequat auctor eu in elit.
Total number of students in course: