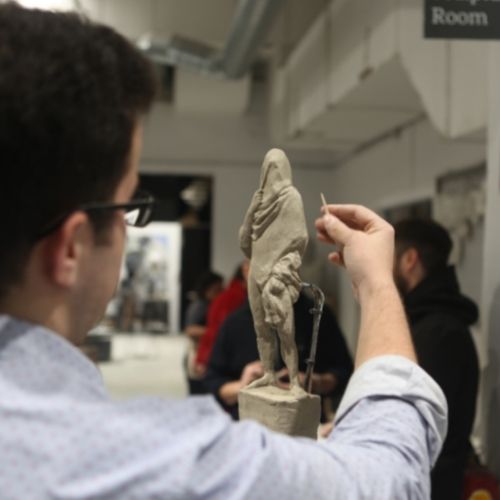 In this seminar, sculptural studies from nature will be carried out, with each session lasting two hours. The exercise will be carried out with clay, from a live model. This exercise will be useful to work more quickly on personal work, as well as to make firm decisions on basic issues such as composition, gesture and proportion.
During the regular exercises of the course, the student will be given the opportunity to work on large-scale projects, where they must be meticulous and precise. Many times however, during this process, the technical aspects of the work absorb us so much that we lose perspective and forget what we were trying to do with the pose that we ourselves chose.
This course will have the objective of making us bolder and quicker at making clearer, basic and important decisions about our work and thus help us to work towards something more than simply copying the model.
The material used for this exercise will be white clay on a metal frame. The end product will be about 30cm high, and a new one will be started every two weeks, or from one week to the other, depending on the situation.
Instructors
Sorry, no posts matched your criteria.
Members
Lorem Ipsn gravida nibh vel velit auctor aliquet. Aenean sollicitudin, lorem quis bibendum auci elit consequat ipsutis sem nibh id elit. Duis sed odio sit amet nibh vulputate cursus a sit amet mauris. Morbi accumsan ipsum velit. Nam nec tellus a odio tincidunt auctor a ornare odio. Sed non mauris vitae erat consequat auctor eu in elit.
Total number of students in course: